DEPARTMENT ACTIVITIES

The P G Department of Chemistry organized Chemfest 2023 on 25th January. Prof Geetha K M, Asso.Prof, Sree Kerala Varma College inaugurated the programme. She also delivered the inaugural address on the various aspects of pollution due to the unwise use of chemicals and suggested few strategies to be practiced for sustaining a green environment. Dr Sr Beena Jose gave the presidential address.
Principal, Dr Sr Beena Jose inaugurated the exhibition Rasatantra organised in connection with Chemfest. Students from various schools and colleges attended the exhibition. Magic show, horror house, game zone etc were some of the attractions of the exhibition. It was open from 10.30 am to 3.30 pm on 25th January. Competitions like still model, treasure hunt and photography were also conducted.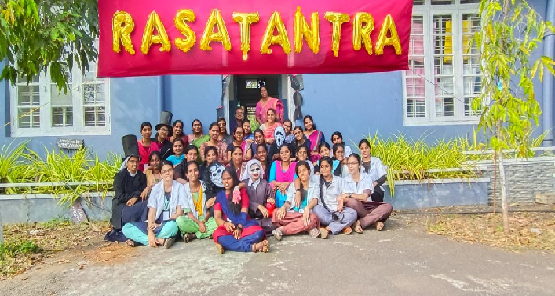 Safety Awareness Regarding the use of Gas Cylinder on 3rd February 2023
As part of the " Suraksha Se Samvridhi " programme Indane Divisional Office, Calicut conducted a Safety Awareness Regarding the use of Gas Cylinder on 3rd February 2023 at Lissieux Hall. Sainik Gas Service, Thrissur coordinated the session. Mr Manoj of Indane firm led a very informative talk regarding the LPG, its composition, possible accidents, types of leakages, management of accidents etc. Thereafter a Quiz competition was conducted for the students. This further enhanced their knowledge in this topic. Mr Anoop Krishnan carried out the prize distribution. Anoop Krishnan is an Indian television actor, director and anchor, who work predominantly in Malayalam film industry. The Managing Partner Mr Sunny Viswanath proposed the vote of thanks. As a token of their gratitude potted plants were given to Dr Theresa C J, Head of the Department and the Principal Dr Sr Beena Jose.