SEMINARS & WORKSHOPS

SEMINARS ORGANIZED BY THE DEPARTMENT
2022-2023
National Seminar 2023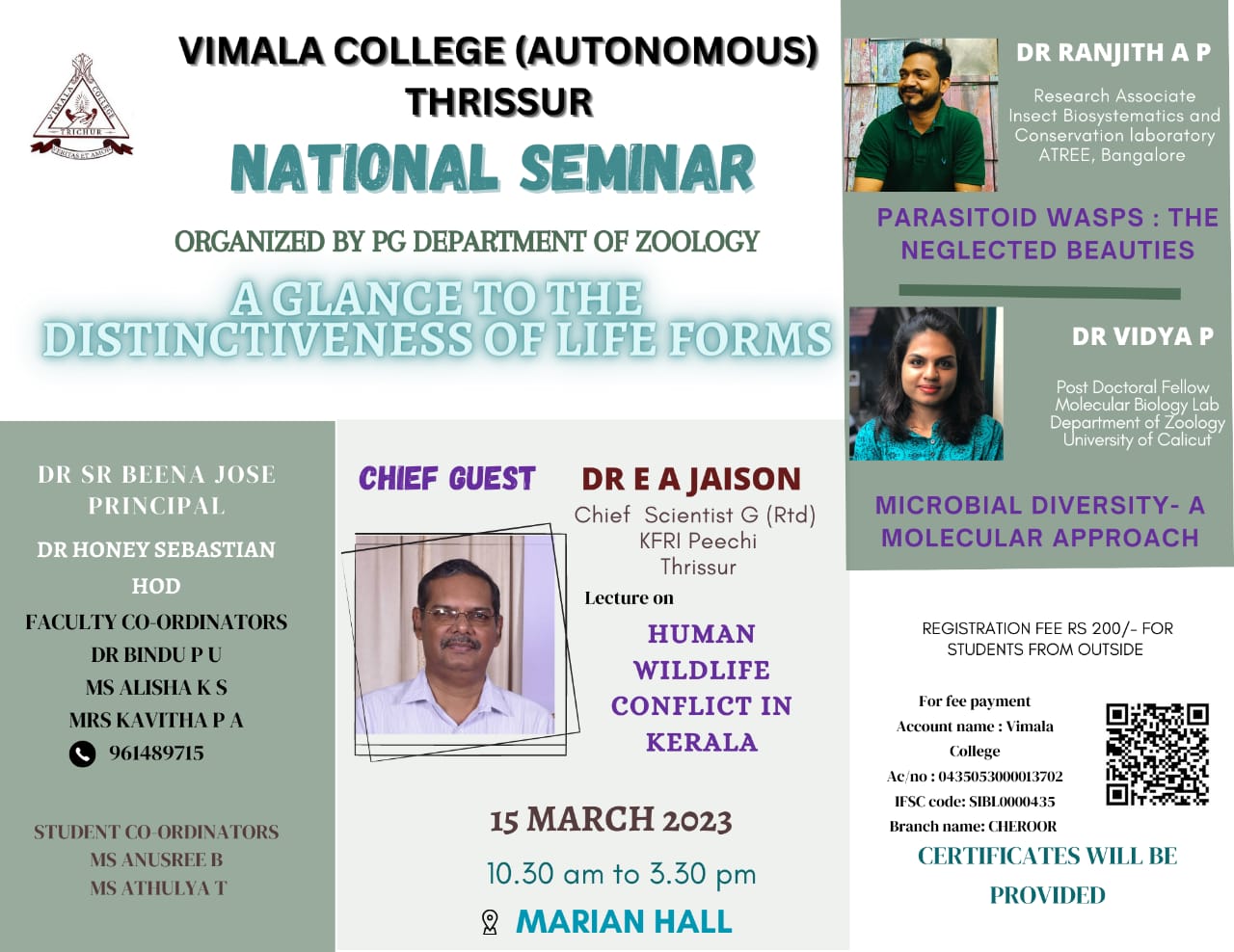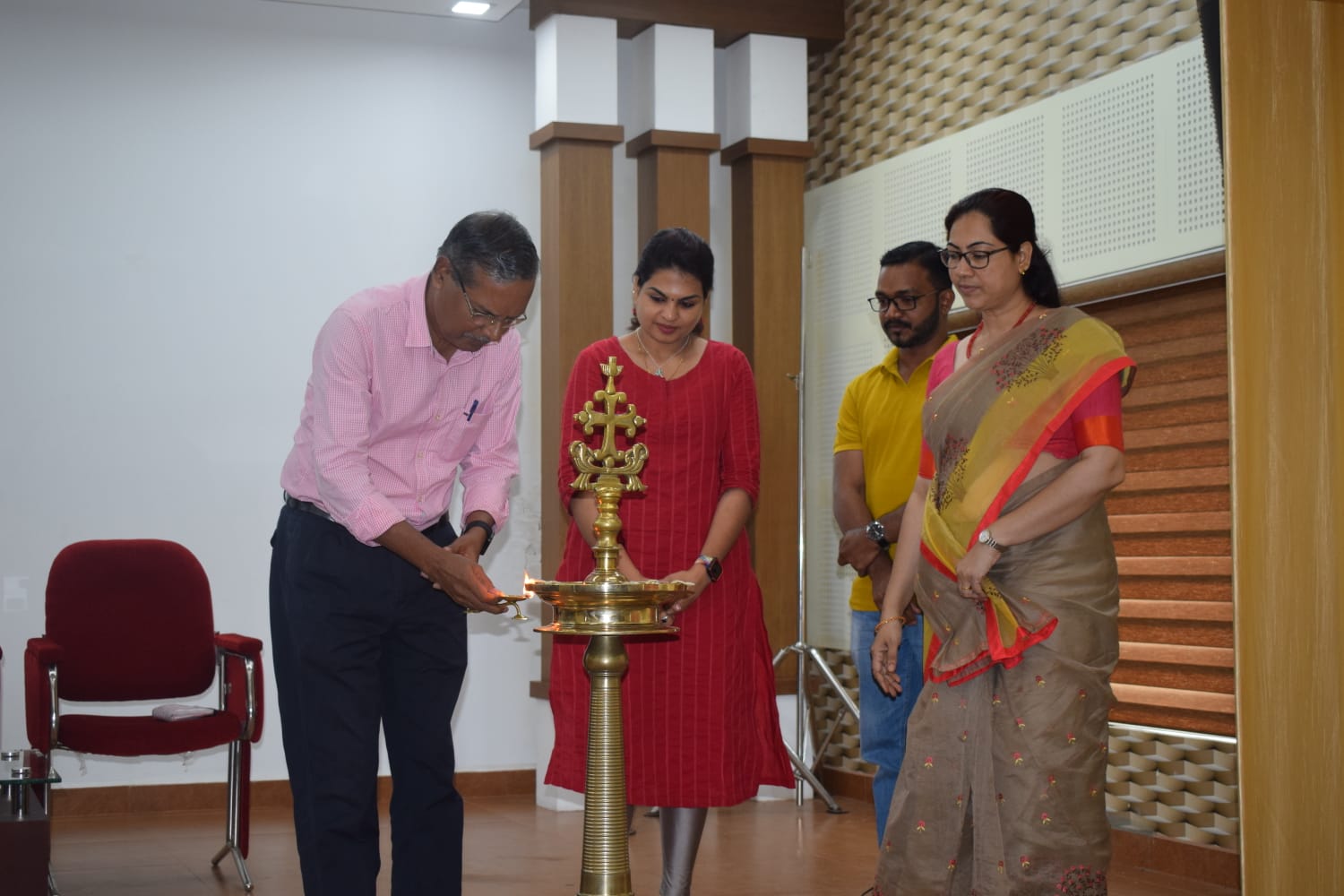 INTERDEPARTMENTAL SEMINAR 2023
19 December 2022 : Dept of Botany, Zoology, Chemistry and Home Science organised a seminar on 'Recent advances in technology - mRNA stability and aberrant translation in cancer cells'at Marian Hall, Vimala college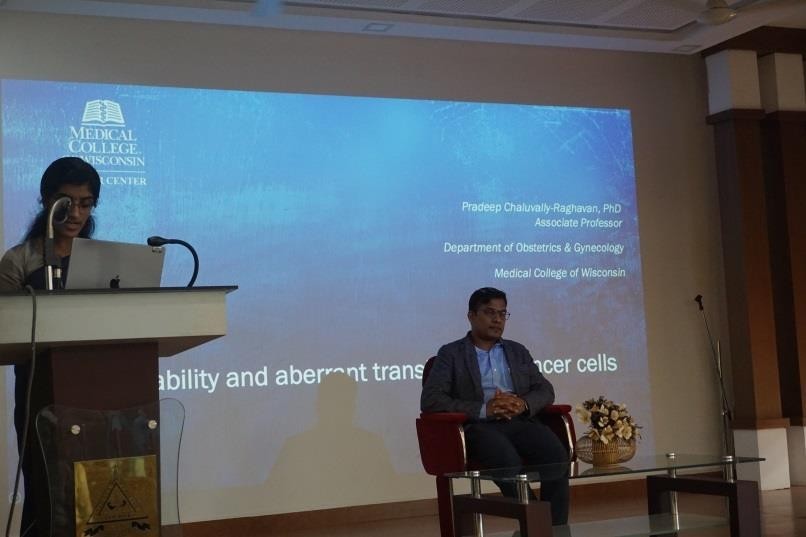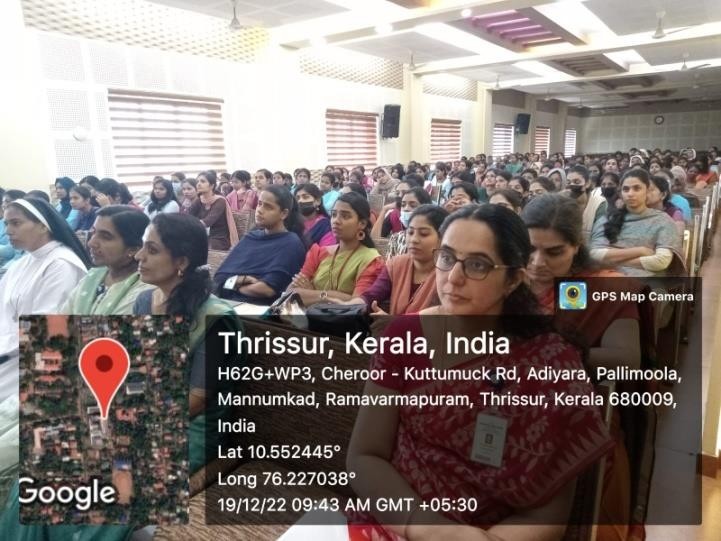 15-3-2023: National Seminar on the theme 'A glance to the distinctiveness of life forms' at Marian hall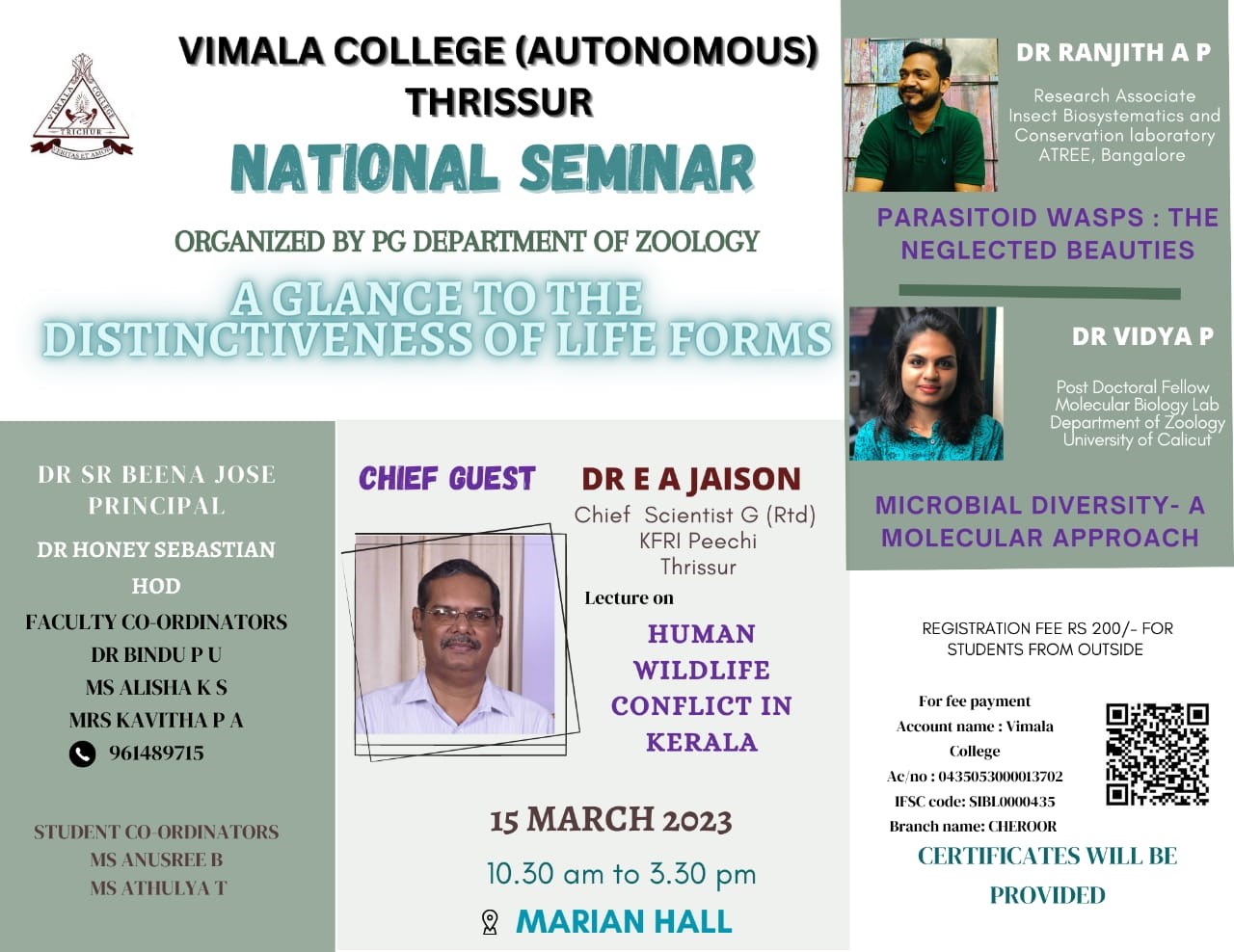 WORKSHOP
1, 2 December 2022: Two day workshop on statistical software 'R' at multimedia centre, Vimala College for PG students and research scholars. Resource person: Mrs. Geethu Gopinath, Asst Prof Dept of Statistics, Christ college, Irinjalakuda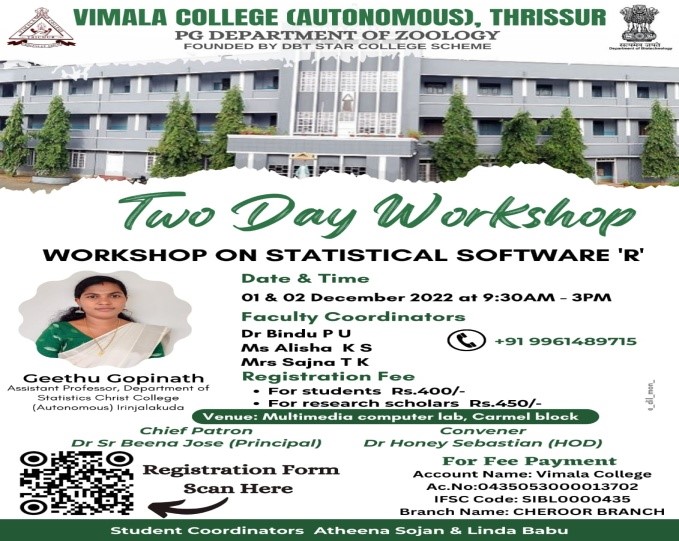 23, 24 January 2023: two day workshop on 'Molecular techniques and bioinformatics' in collaboration with VetaGenomics lab for PG students and research scholars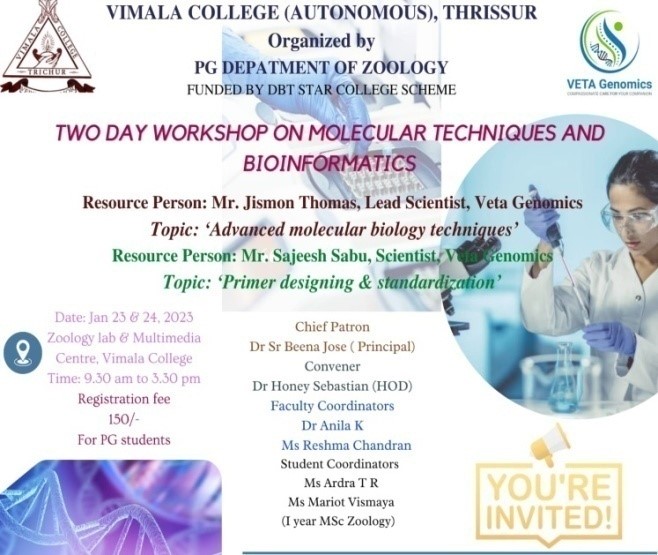 ---
2019-2020
Regional Seminar on IPR
a) 2-8-2019: RAegional Seminar on IPR
Dr. Vinu. J. George, Asst. Prof. Political Science, Kuriokose Elias College, Mannanam, Kottayam, Kerala, presented the topic "IPR -an introduction to intellectual property rights".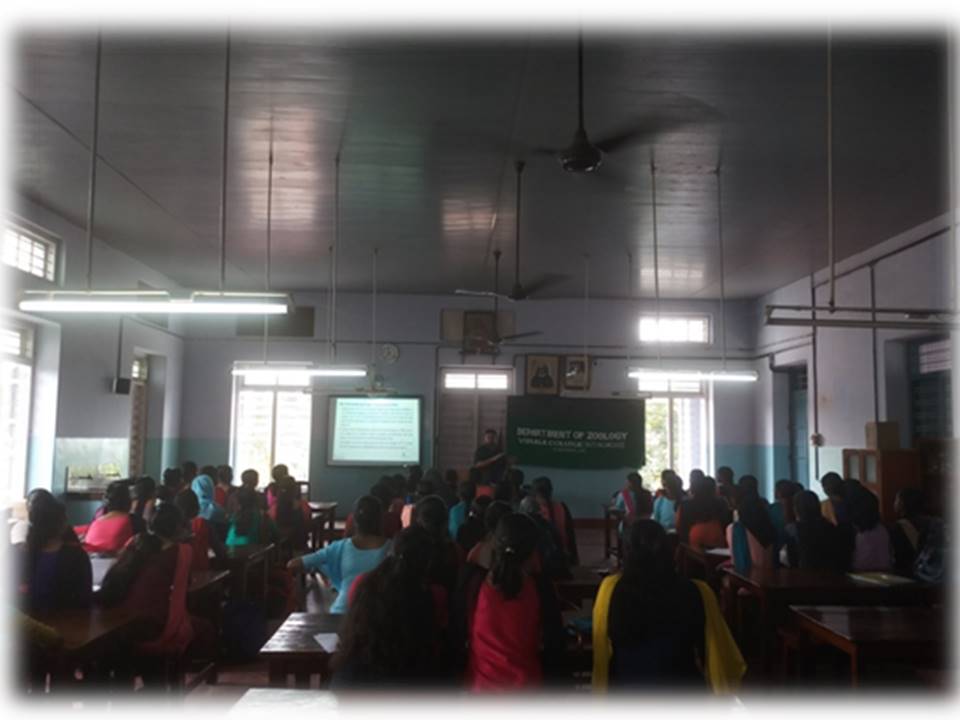 ​
b) 1-11-2019: Seminar in connection with National Bird day
Department of Zoology in association with Wildlife division, Peechi and Nature club, Irinjalakuda, jointly organised a Seminar in connection with 'National birding day' commemorating the birth anniversary of renowned ornithologist Dr.Salim Ali. Inaugural talk was delivered by Wildlife Warden, Mr.Rajesh.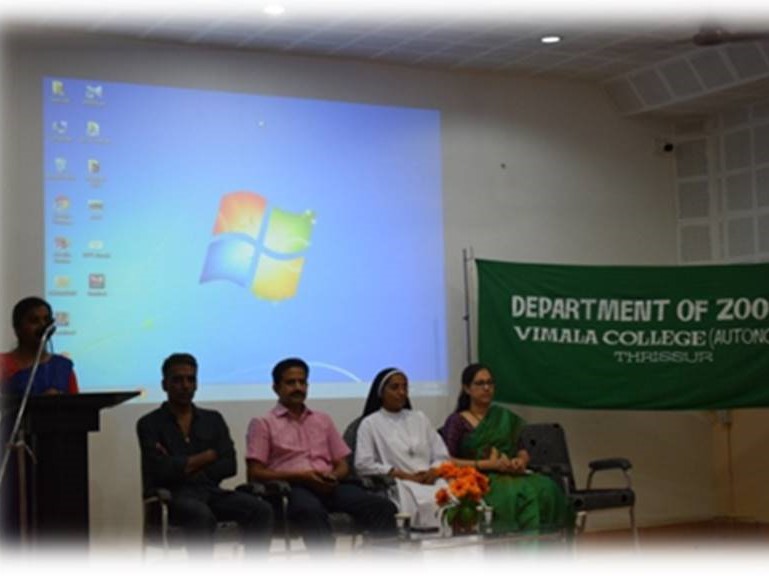 N. Mr.Madhu Gopalakrishnan, Wildlife photographer and ornithologist, delivered a talk on 'Basics of bird watching and common migratory birds in our locality'.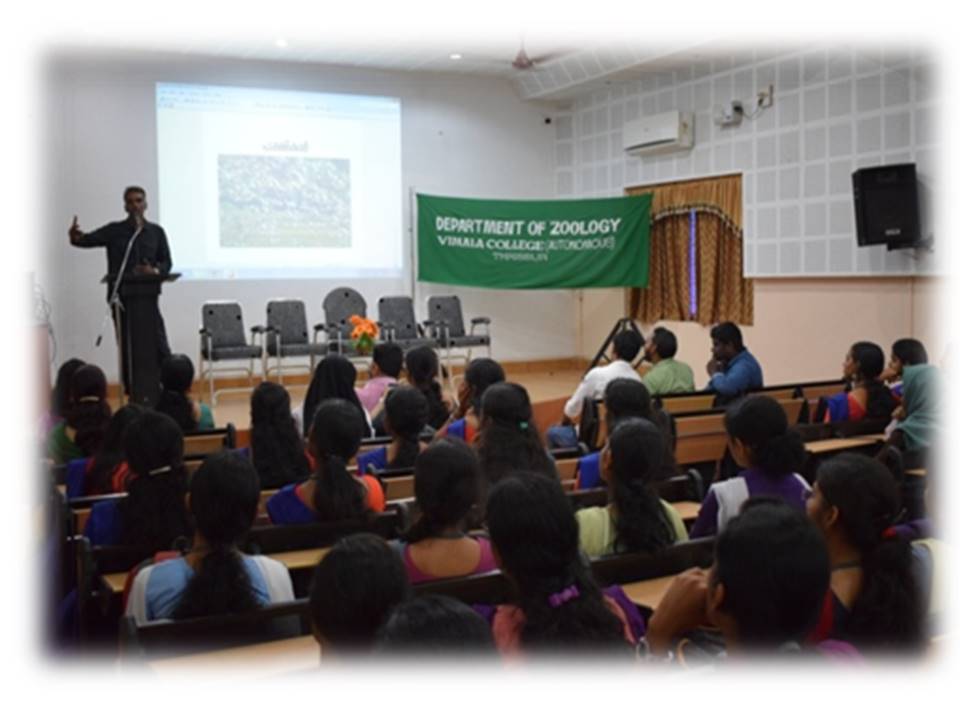 c) 25-11- 2019: Regional Seminar on "Forest and Wildlife"
Technical session I: Sri S. Balasankar, Sectional Forest Officer and Assistant Editor "Aaranyam", Forest Headquarters, Vazhuthakkad, Trivandrum presented the topic on "Embrace the wild and entwine the green"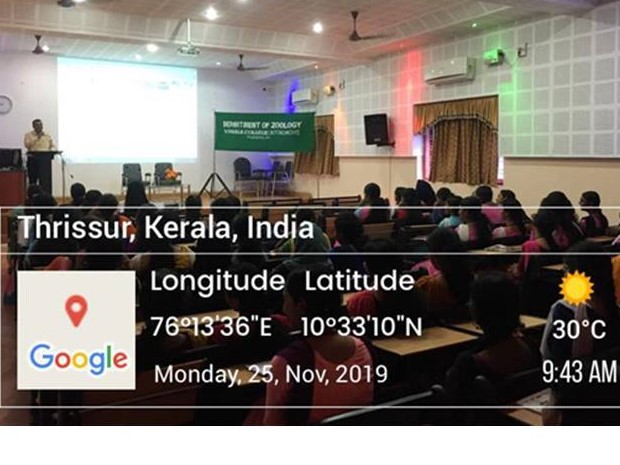 Technical session II: The session was handled by Mr Sandeep Das, Research Scholar, KFRI, Peechi (First prize winner of state wild life photography competition organized by Kerala Forest Department). He delivered a talk on "Amphibian diversity in Western ghats"
​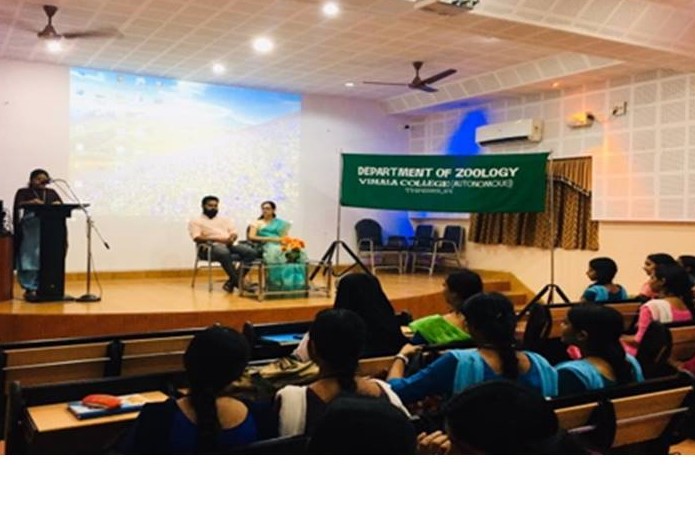 STUDENT ORGANISED SEMINARS
6-11-2019: Final year UG students organized a regional seminar on 'Biodiversity'.
Technical session I: Dr TV Sajeev, Principal Scientist, Department of Forest Entomology, KFRI handled the session on "Biodiversity, democracy and happiness: are the linkage breaking".
Technical session II - Dr. Balakrishnan Peroth, Scientist, Department of Wildlife Biology, KFRI. He delivered a talk on "Biodiversity-stories around the world"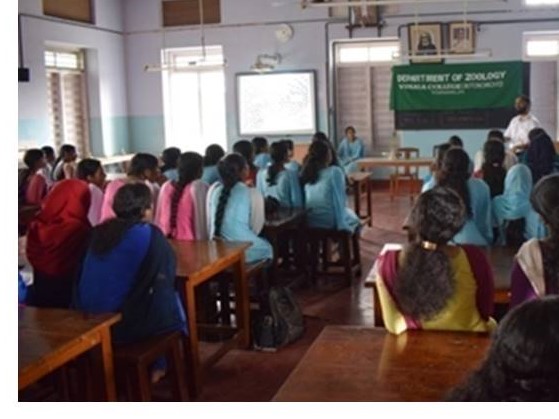 LECTURE SERIES ORGANIZED BY THE DEPARTMENT 2019-2020
Programme for selected members of the community
5-8-2019: Selected members from the nearby area were invited by the department and arranged a programme for them. Dr.Shinju V, Asst.Professor and Head, Dept of Sociology presented a topic on 'Fundamental rights and human values'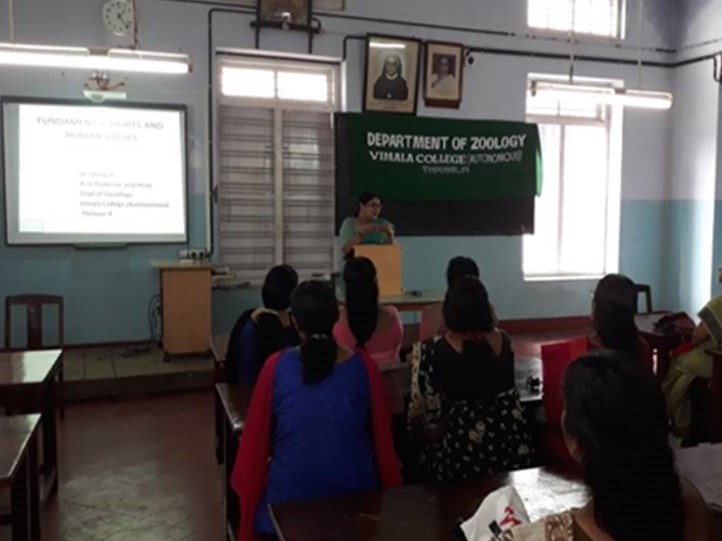 22-08-2019: Smt.Sruthy A, Research Scholar, Dept of Music, Kerala Kalamandalam (Deemed to be University) delivered a talk on the topic "Music Therapy"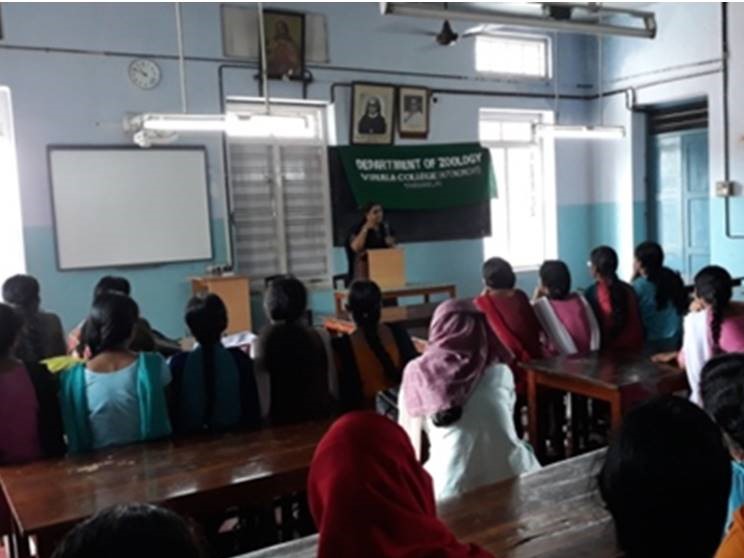 29-08-19: Mr.Jose Kallookkaran, Environmentalist, bird watcher and wildlife photographer (State Award winner for wildlife photography) presented a topic on "Wildlife photography- opportunities for women"
14-11-2019: Mr. P. Jayaprakash, Asst. Executive Engineer, Kerala water Authority- Quality control subdivision, Thrissur, handled the class on the topic 'Water conservation and Water quality'. 106 students from B.Sc and M.Sc students attended the class.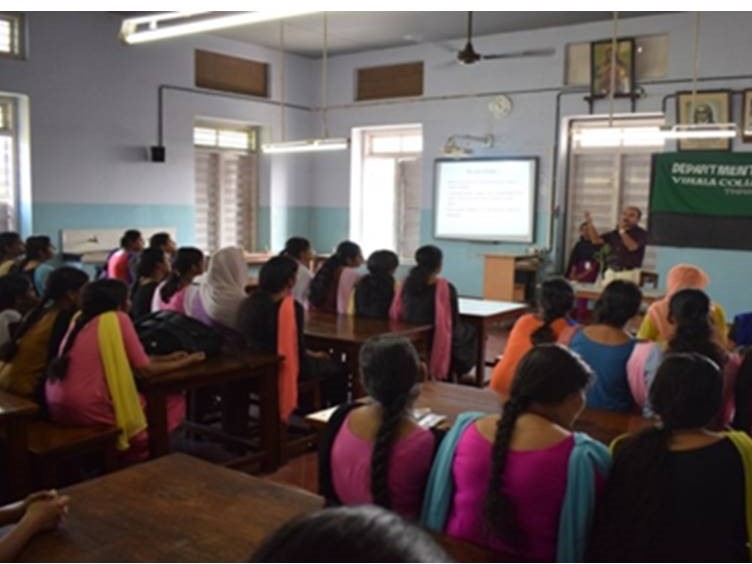 23-01-2020: Dr.Anumod P, Ayuvedic Medical practioner, delivered a talk on the topic 'Prolife- a step to save life'

27-02-2020: Dr.Sileesh M.S, researcher and freelance scientific writer, Kerala University of Fisheries and Ocean Sciences, Panagad, Kochi delivered a talk on 'Ethics in scientific Research and article writing'
Webinars
3-03-2020: Dr. Finosh Thankam, Professor, Western University of Health Sciences, US, delivered a talk on "Career and research opportunities for Zoology students in India and Abroad'. PG and UG students attended the webinar along with all faculty members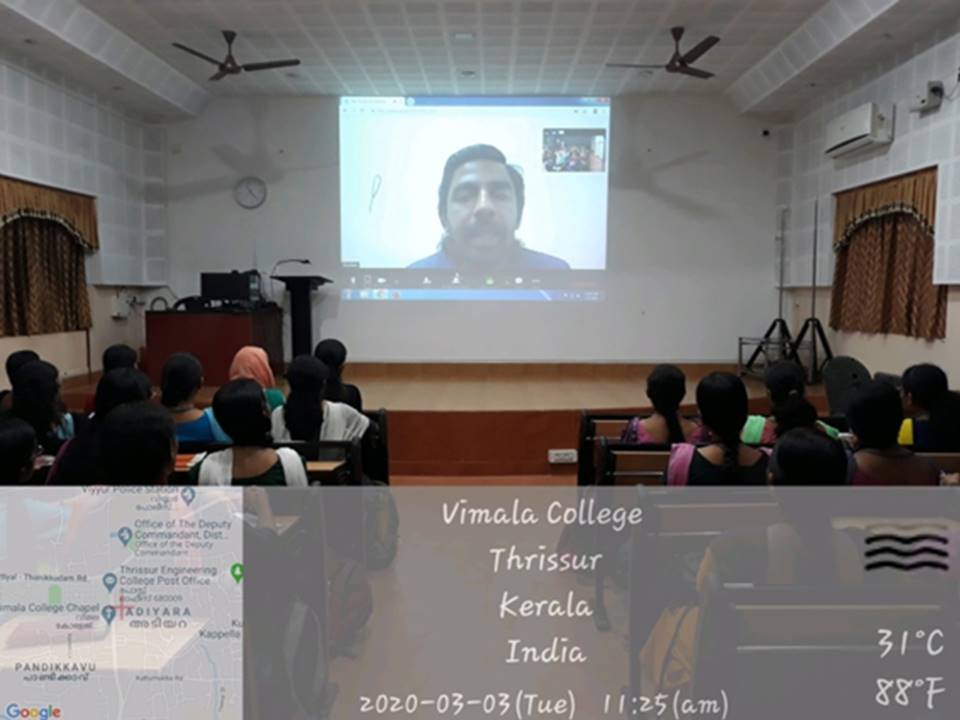 Department organised a State level webinar on the topic 'Environmental biochemistry and toxicology' on 6th June 2020 in connection with World environmental day celebrations. Resource person: Dr. Vipin P Sivaram, Asst. Professor & Head, Dept. of Biochemistry, Govt. Arts & Science College, Kozhinjampara, Palakkad.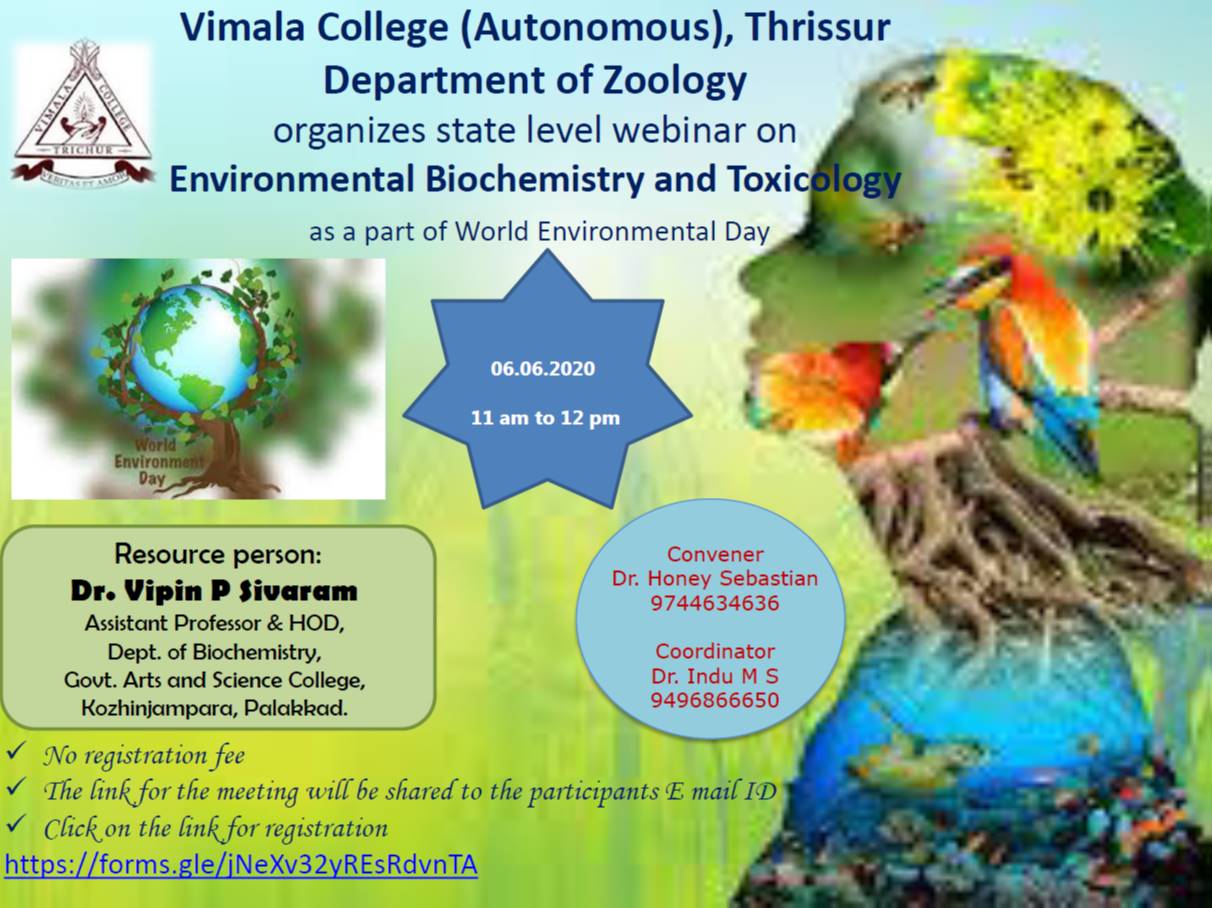 Department organised a two days National webinar Series on 29th and 30th June 2020 on the topic 'Biodiversity Conservation' funded by DBT-Star College, Ministry of Science and technology, Govt of India.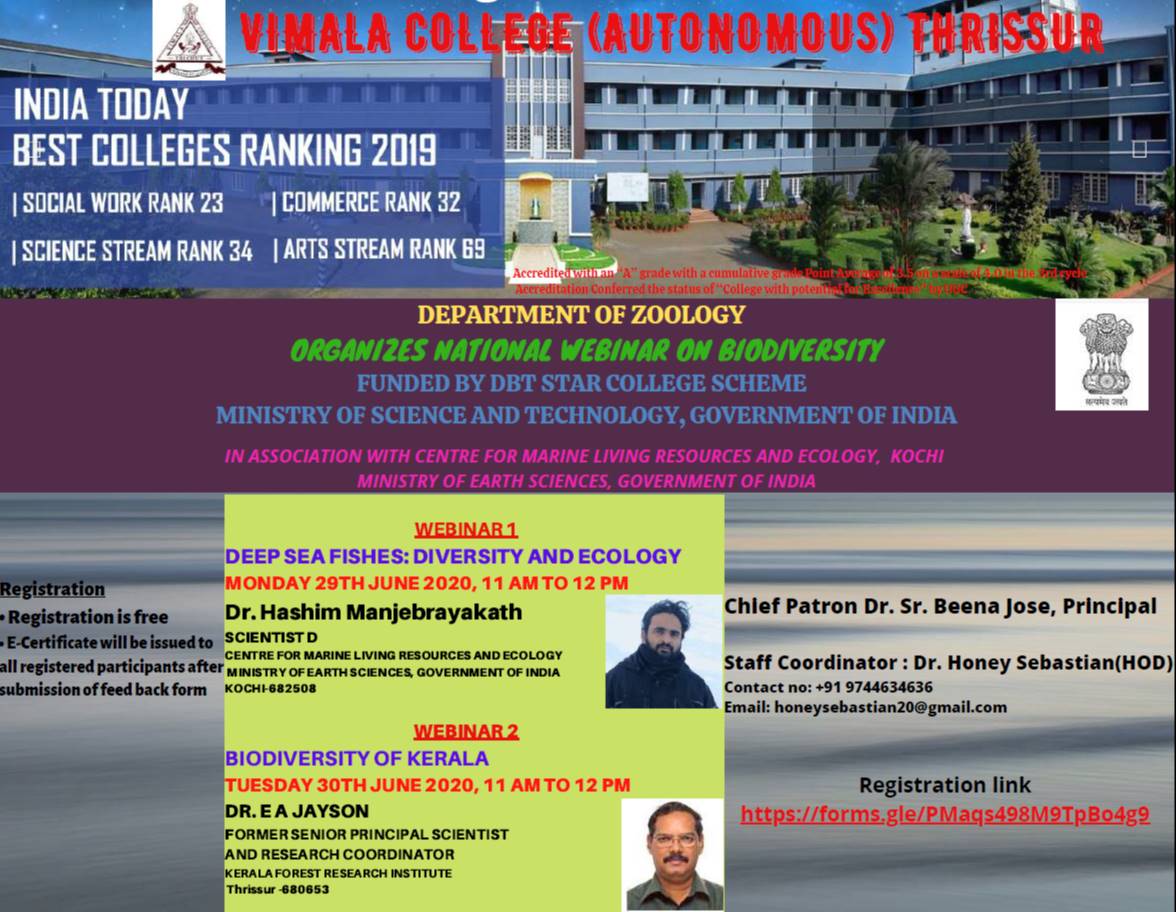 Department organised an International Webinar on 5th September 2020 on 'Co-Existence- International Webinar on Covid-19'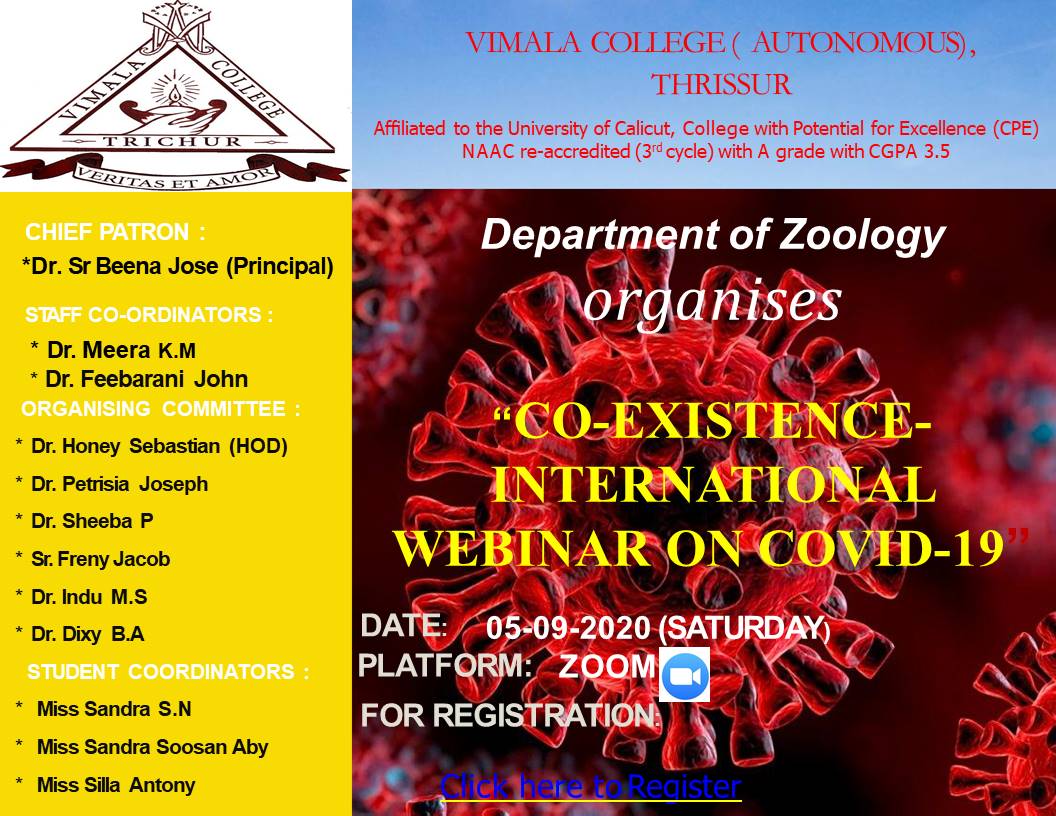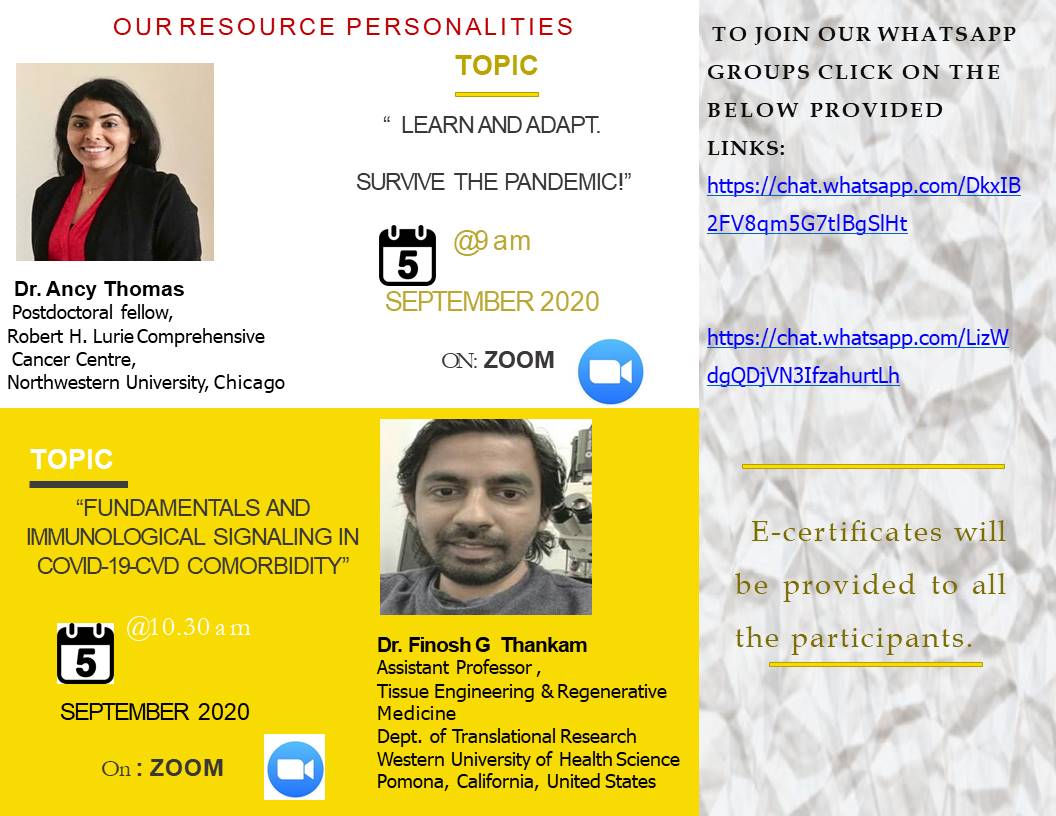 Department organised an International Webinar Series in association with Department of Botany, on 9th and 29th September 2020 on the topic 'Recent Trends in Biological Sciences' funded by DBT-Star College Scheme, Ministry of Science and technology, Govt of India.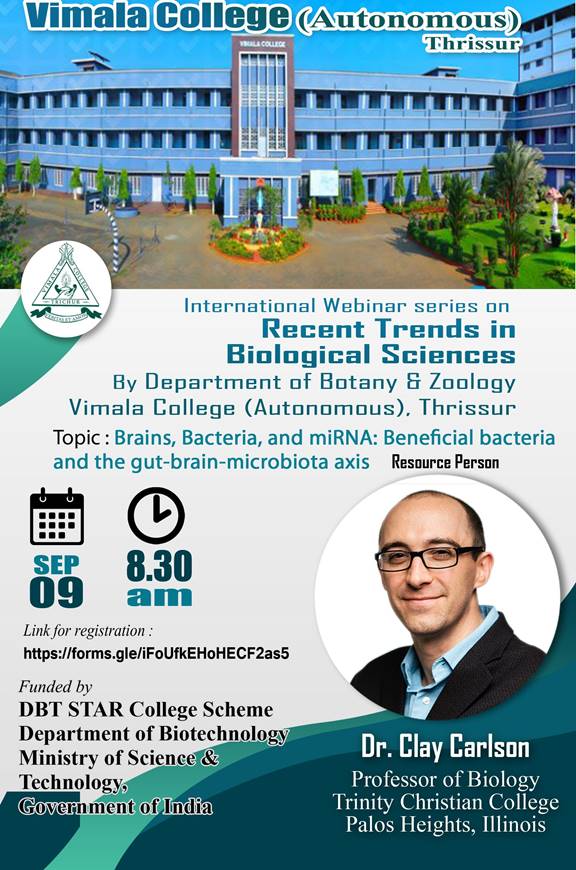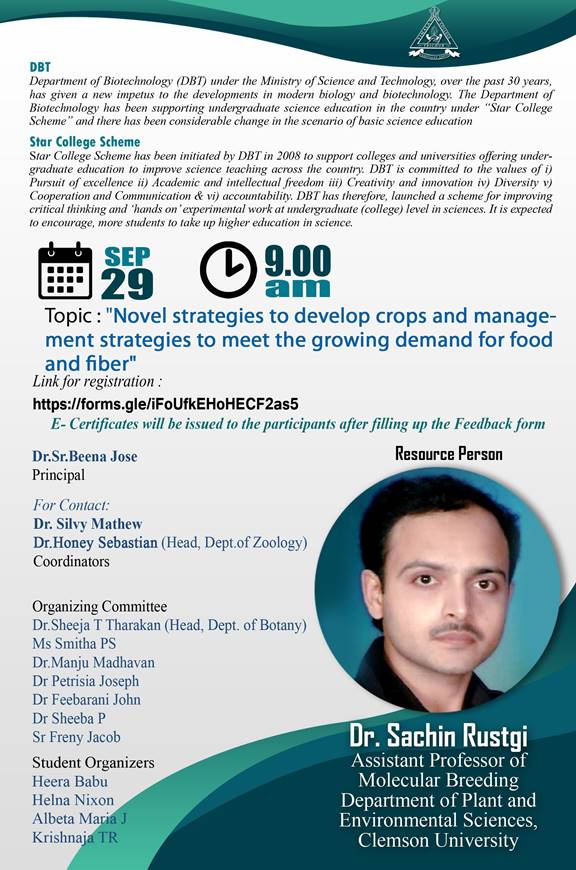 Department organised an Two days National level Online Workshop on "Tools and Techniques in Biological Research" on 6th & 7th October 2020
---
---
2018-2019